Yet another process where RFID asset tracking can help you with…
Usual wall to wall inventory audit process
If your fiscal year matches the calendar year, you must be in the throes of your annual asset audit. If you currently use barcodes or worse, a highly labor intensive process to do your wall-to-wall audits, we commiserate with you. Having to crawl under desks and lab benches, reach behind assets in order to read off barcodes or serial numbers is not only time consuming, but can also be injurious to your health! Often, teams of people are made to perform these audit tasks and it can take days, if not weeks. Once an audit is done of the entire company, considerable amount of time is spent reconciling the audited list with the list sent by your finance department.
Then the teams have the unenviable task of chasing down those assets that were not located the first time around. Now, equipment owners, lab managers, Principal Investigators and the like, are recruited to participate in the daunting task of having to track down the missing assets. After days of these expensive resources being deployed, the missing asset list is whittled down to a few dozen. The Finance department is then asked to write these items off. All in all, it is a costly and laborious process.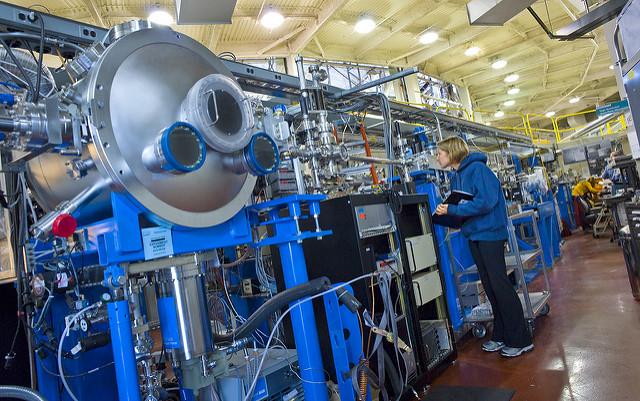 Image: https://www.flickr.com/photos/berkeleylab/3523139681/
RFID asset tracking solution for wall to wall inventory
By using RFID asset tracking solutions i.e. RFID tagging the assets, using an RFID handheld reader only or a combination of RFID handheld readers and fixed RFID readers, the organization can more efficiently and accurately complete its audits, with nearly 100% reconciliation. Our customers have not only seen at least an 80% reduction in audit times, but have also not seen a need to write off inventory due to their inability to locate them. Further, they have realized more than 100% ROI in less than 2 years.
One of our happy customers
"The AssetPulse active RFID solution meets my needs for managing the ALS vacuum equipment pool. The inventory and search capability of the active system is invaluable during the yearly wall to wall inventory of the entire lab. Having an up-to-date inventory record of all assets will cut the time and labor cost to the lab to an ultimate minimum. Previously, wall-to-wall inventory has taken multiple weeks to manually find and scan these assets."
– Frank Zucca, Lawrence Berkeley National Laboratory