AssetPulse, the leading RFID solutions provider in USA, prides itself in providing best-in-class IoT based Asset Tracking solutions. AssetPulse has now become the Go-To RFID solutions provider when RFID-challenging use cases present themselves, where other Asset Tracking solutions have been tried and have failed.
AssetPulse RFID Software Solution Suite
AssetPulse's success in challenging use cases and environments is due to the IP and domain knowledge that AssetPulse has grown and nurtured over its 18+ years of existence. The IoT Asset Tracking provider has developed and primed a software solution that leverages industry-leading technologies to elegantly and efficiently address the complexities of processing raw IoT data in real-time, analyze the data, and draw inferences that provide visibility into business operations. In order to meet its customers' needs, AssetPulse provides its software both on the AssetPulse Cloud and also as an On-Prem solution.

State-of-the-Art RFID and IoT Hardware and Tags Lab
Coupled with its software platform is AssetPulse's innovative RFID and IoT Hardware and Tags Lab. Our engineers in our RFID Hardware and Tags Lab continually evaluate and test the latest innovations in hardware and tags, and add them to our portfolio. When a customer use case is brought to the Lab, our experienced engineers are able to recommend the optimal hardware and tags to address the use case. We have partnered and evaluated dozens of hardware components including readers, antenna, gateways, sensors and tags. Our RFID tag offering contains hundreds of tag options for various environments, both indoors and outdoors.
AssetPulse's Best Practices for RFID Deployment
Having the best Hardware, Software and Tags is necessary for RFID deployment, but not sufficient to ensure success at the customer's facilities. The other essential factor for a successful project is in-depth RFID domain knowledge that is needed to deploy the solution at the customer's site. Our Deployment Team has honed its knowledge and has developed the Best Practices - culled from years of onsite deployments in varying environments, both indoors and outdoors.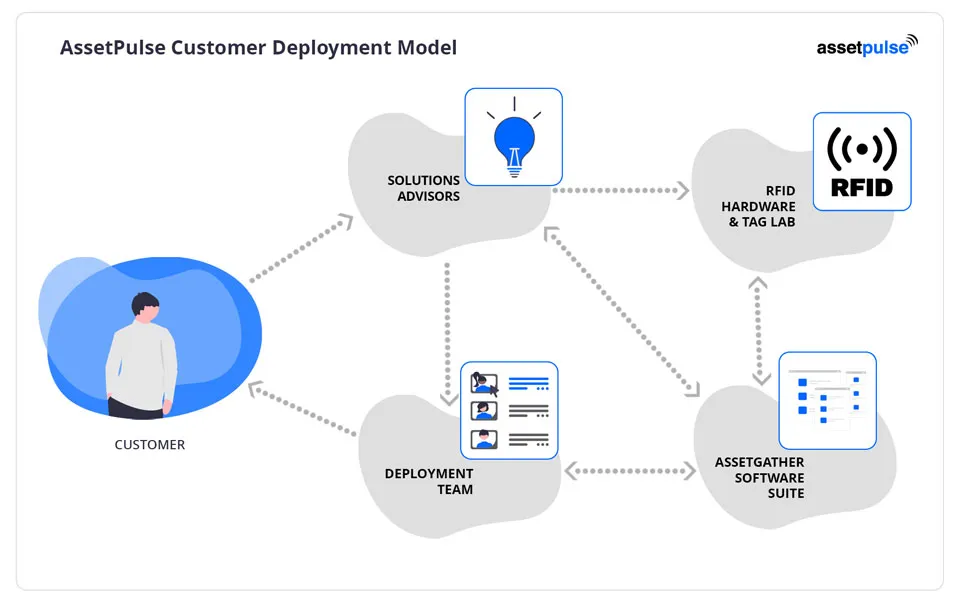 Our Customer Deployment Model
Our success lies in the close interactions our Solutions Advisors have with our customers. Understanding the requirements and the business processes is key to devising the optimal solution for them. Our Solutions Advisors choose the appropriate software solutions from the AssetGather Suite and obtain recommendations for the hardware and tags from our Experts at the AssetPulse RFID Hardware and Tags Lab. They then advise our Deployment Team the best solution to deploy at the customer's facility. This well-oiled process has resulted in completion of many successful projects at some of the world's largest organizations.
AssetPulse Customers
AssetPulse offers customizable RFID and IoT Asset Tracking Solutions to meet the needs of the customers. Our customers span a diverse set of environments including:
Labs and Clean Rooms at Biotech organizations including Biomedical Device and Pharmaceutical companies
Labs and Manufacturing facilities at High Tech Companies
Manufacturing Assembly Lines and Warehouses at a wide variety of industries
Local, State and Federal Government facilities - tracking IT Equipment, Lab Equipment, Weapons, Personal Protective Gear, Tools, etc.
Various components at Oil and Gas facilities - indoors and outdoors
Management

Sujatha Bodapati, Founder and CEO
Sujatha has over twenty-five years of industry experience including ten years at HP where she was extensively associated with the HP OpenView program. Over the years, she has held various positions in R&D, R&D management and General Management. She has been an entrepreneur for over 15 years. Prior to AssetPulse, she founded ProdexNet that focused on Business Service Management and Management of RFID Networks. She has a BS from Santa Clara University and an MS from Stanford University.
Experience the Effectiveness of our RFID Tracking Solutions in Real-time