RFID Asset Tracking Solutions for Cleanrooms
Cleanrooms Asset Tracking System for Biotech Industry
Cleanrooms are vital in the biotech industry - pharmaceutical, veterinary, biosciences and the biomedical device industries, since these are very sensitive to environmental contamination. They also are commonplace in semiconductor and telecommunications industries. cleanrooms can be manufacturing sites or R&D labs. All cleanrooms share a common objective of being contaminant free - to varying degrees depending on the industry.
Equipment Tracking and Calibration Management
Test and measurement equipment are a familiar sight in cleanrooms. They can be very large assets like incubators to smaller items like thermometers, probes and rulers. Typical challenges related to tracking these equipment include:
Knowing the location of the assets. Are they still in the cleanrooms or were they removed? If so, where?
Tracking calibration, preventive maintenance or safety inspections of the equipment. Are they performed in a timely manner?
Physically locating the equipment on the floor, either to use or to send for calibration
Keeping an accurate inventory of the equipment on the floor at all times, including details like the version of the firmware/software used, accessories, configuration and components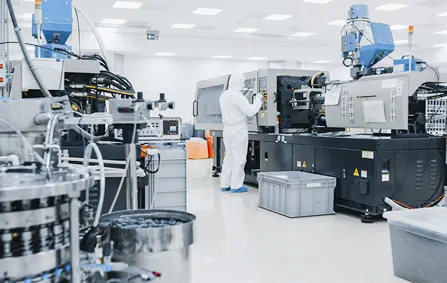 The AssetGather RFID Asset Tracking solution is well suited for this application. Thousands of such assets are currently being tracked in cleanrooms environments. Often, customers use the handheld only solution as an entry level project. They then, quickly phase into a permanent infrastructure with fixed readers to automatically pick up assets within the cleanroom and to monitor exits to record movement in and out of the cleanrooms. A good addition to the implementation is to also monitor metrology or the rooms where in-house calibration is done. Cameras can also be integrated into the system, if needed.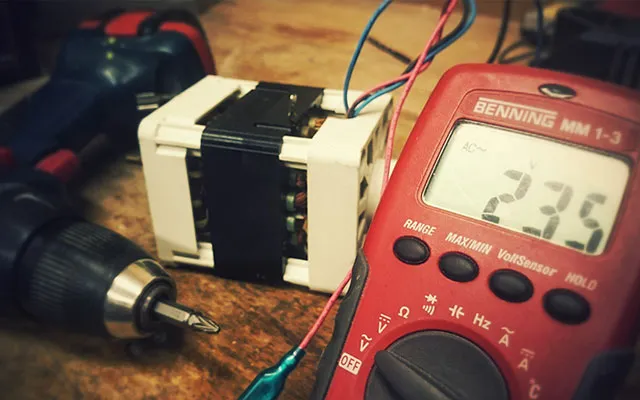 Work-in-Process Tracking
Whether the cleanroom is in tech or in the biosciences, WIP tracking is often done manually or with barcode. Both these methods require the employee to remember to record or scan. Though it is completed most of the time, there are still too many incidents when the employee omits recording the status or does it incorrectly. These incidents can cause major disruptions immediately, or more ominously, much later.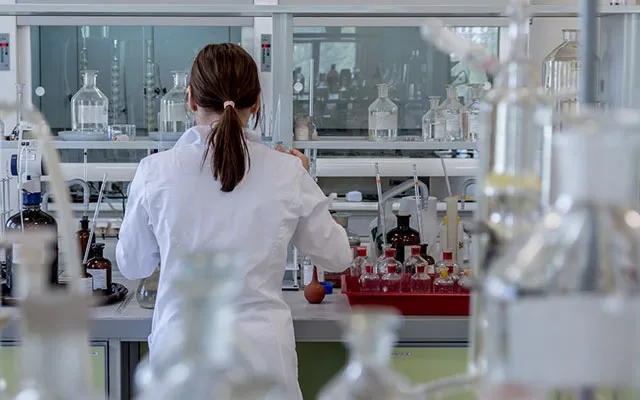 Forward thinking customers are now resorting to automated tracking, where the work-product is RFID tagged and it is read at the different phases or sub-phases of manufacturing. This allows visibility not only into the work process itself, but also into work efficiencies. Now that the work-product is automatically scanned throughout the work process, insight is provided into the length of time each sub-process takes. Further, alerts can be generated if there are delays in a sub-process or inversely, if the time spent in a particular sub-process was much shorter than expected.
Tool Tracking
Every manufacturing process requires tools - mechanical, electrical or electronic. Often times, the tools are off-the-shelf tools used for test and measurement. Additionally, tools like jigs and molds can be custom made for a specific process. Tools are customized, either with configuration settings, or with special versions, when they are used in the different phases of manufacturing. Keeping track of these tools can be a challenge. Unavailable or lost tools lead to delays in the workflow and unplanned repairs. Not only should the right version of tool be at the right workstation or work bench, but also the right quantity of the tools should be present. Considerable time is spent at the beginning and end of a shift to ensure this. Additionally, each tool has to be individually located when it is due for calibration or preventive maintenance. Hundreds of hours of labor are spent looking for tools in either of the aforementioned scenarios.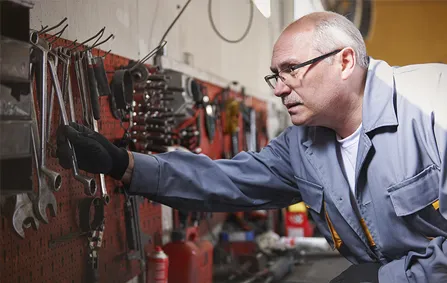 Using AssetPulse' RFID tool tracking solution is very cost effective, not only because it can prevent labor wastage, but also can help avoid inadvertent mistakes or inefficiencies in the manufacturing process itself. For example, AssetGather can alert if the wrong tool (could be the right tool, but with an incorrect configuration or version) is being used at a particular workstation. It can allow for traceability of manufacturing operations during an audit, where the tools or equipment used on a particular day/shift has to be provided.
Personnel Tracking
There are several reasons why personnel might need to be tracked in cleanrooms. Some cleanrooms may need to maintain accurate logs of who enters and exits. There might be restrictions on how long a person could continuously stay in a cleanrooms, before they have to leave and re-enter after re-gowning. Limited access cleanrooms need to ensure only authorized personnel enter. Personnel are mandated to enter and leave through airlocks, sometimes including an air shower stage, and wear protective clothing such as hoods, face masks, gloves, boots, and coveralls. These use cases lend themselves well to the use of AssetPulse' AssetGather solutions. Movement in and out of the cleanrooms can be tracked and reported on. Protective gear can be RFID tagged and checks can be made to ensure personnel enter with protective gear.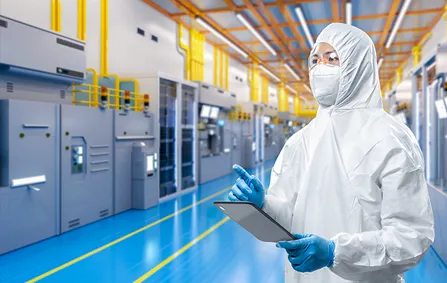 Cleanrooms' Unique Environments
Cleanrooms' stringent requirements to maintain extremely low particulate matter levels, leads to unique building characteristics. In order to keep the dust particle, airborne organism or vaporized particle levels to a minimum, the cleanrooms are constructed with special materials like steel, aluminum or other materials painted with epoxy. These materials are chosen not only to prevent out-gassing or particulate emission, but also to withstand strenuous cleaning and wipe downs. In the biosciences cleanrooms, chemical wipe downs are done periodically to eliminate viral or bacterial contaminations. Often, equipment and tools may need to be autoclaved.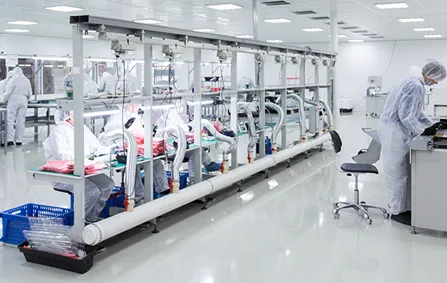 These environments cause the equipment within the cleanrooms to also be subject to similar cleaning operations. The RFID tags used on equipment, tools and work-product have to withstand the cleaning procedures including the wipe downs and autoclaving.
The AssetPulse Solution for Cleanrooms
AssetPulse, with its years of experience working in such environments, have a carefully curated solution that includes the right RFID inventory tags, readers and antenna, along with the software, to provide maximum ROI to the customer.
RFID tags are selected based on various parameters including:
Surface material of the asset/ work-product / tool
Cleaning procedures asset is subject to
Size of asset
Distance the tag has to be read from
RFID Scanners and Antenna
Use cases in the cleanrooms vary widely, with very specific requirements related to read distance, e.g. ability to read work-product on work benches that are less than a foot apart vs ability to read test equipment moving through a door. As part of AssetPulse' well honed offering, we have an assortment of RFID readers and antenna tailored for each use case.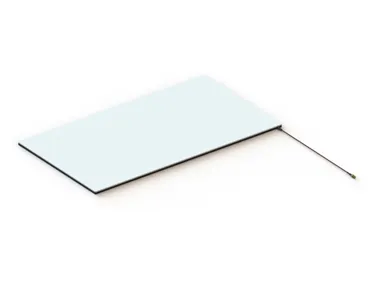 Benefits of RFID Cleanroom Tracking System
Each of the use cases in the cleanrooms are very exacting and provide several challenges to an RFID implementation. Metal walls in a cleanrooms can adversely affect RF, due to multi-path reflections. Needing to accurately read tags on one bench vs the neighboring bench is complicated. Even with the best hardware and tags, adaptive, self-learning software is required to automatically tune the hardware and learn to intelligently to exclude cross reads and detect multi-path signals. The newly enhanced AssetGather software, considered to be one of the most effective in the industry, is well positioned to deliver successfully in such environments.
Please reach out to our experts to discuss the details of your use case.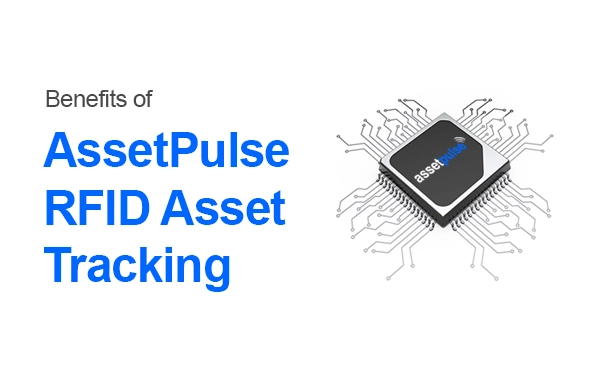 Experience the Effectiveness of our RFID Tracking Solutions in Real-time