RFID Tags
RFID Tags for diverse requirements
RFID Tags
Choosing the right RFID technology and tags are essential for a successful deployment. Several factors need to be considered while deciding on RFID tags. Size and form factor, tolerance to environmental conditions, read range, cost, ruggedness and aesthetics are some of the factors that are being evaluated. AssetPulse offers a range of RFID tags suitable for a wide variety of use cases and requirements.
Passive RFID Tags
These RFID tags work without any additional power and have significant longevity. These asset tracking tags can be read by RFID readers from up to 10 -12 feet in most operating environments.
Our team of experienced professionals can help select an optimal set of RFID tags to meet your asset tracking needs.
RFID Inventory Tags for IT Assets
IT departments are responsible for a range of equipment including servers, desktops and networking gear to mobile devices including laptops, tablets and smart phones. RFID Inventory Tags of different form factors and sizes are required for inventory audits. Racked equipment in datacenters call for smaller form factor tags while mobile devices need low profile tags that are unobtrusive and inconspicuous.
RFID Tags for Lab Equipment
RFID tags for inventory that are used on IT devices can also be leveraged for lab equipment tracking, if the lab equipment has enough surface area to affix the equipment tracking tag on them.
However, equipment used in high-tech or biotech labs may have smaller form factors, may also have curved surface, which calls for specialized RFID tags. For curved tools, it is not possible to use any label tags, as bending the RFID tag on the curved surface will make the tag ineffective or sub-optimal in terms of its read performance. AssetPulse offers special RFID tags for inventory that can be used for such equipment or tools.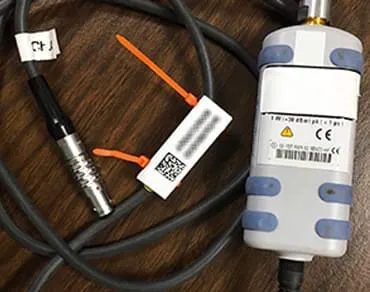 RFID Tags may also be required to tolerate chemical cleaning, heat or cold and shock or vibration. In a few bio-medical or pharmaceutical cases, the RFID tags have to be able to withstand autoclave process.
Having deployed thousands of RFID tags in such environments, AssetPulse has a number of suitable asset tracking tags in its RFID tag catalog to meet these needs.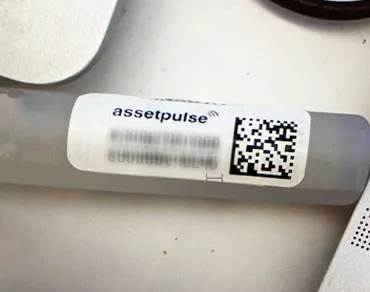 RFID Tags for Inventory in Manufacturing
Custom size and shape of RFID tags are needed for manufacturing that can hold more information pertaining to the raw material, process manual, tools and finished goods.
Raw Material Bin tags with additional information about the raw material part number, name, batch and so forth.
RFID Tags for Process Instruction Manuals.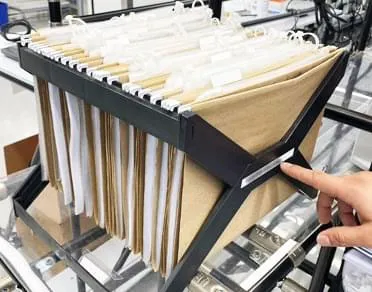 RFID Inventory Tags for Harsh environments
Several industries including Oil and Gas, Construction and Manufacturing operate their equipment in harsh environmental conditions. RFID tags for inventory used on these assets may need to withstand temperature extremes, high pressure, exposure to chemicals, and even mechanical impact, shock and vibration. Tags meant for indoor assets will most certainly not survive such conditions. AssetPulse has successfully deployed a wide variety of asset tracking tags with various form factors all over the world, including humid conditions of Louisiana, hot arid conditions in the Middle-East and extreme cold Arctic conditions. Our specially designed RFID tags are used to track dredging pipes at ports, valves in oil fields, tools at construction sites and power cables dragged through dirt and snow while powering generators in the outdoors. RFID Tags support multiple mounting techniques including adhesion, bolts or rivets, welding, nylon or metal zip ties, or securing the tag with steel cables.
Embeddable RFID Tags
RFID Tags may need to be embedded into the assets for multiple reasons. Either the tag has to maintain a zero or low profile or it might need to be kept out of sight for aesthetic conditions. Our RFID inventory tags have been embedded in drilling tools, wooden doors and concrete. RFID Tags require various tolerances to function in such conditions.
Active RFID Tags
These long-range RFID tags are powered by a battery and have a significantly longer read range than passive RFID tags. Active tags can be picked by RFID readers from a range of 60-100 feet in most operating environments.
Long-range RFID tags are used in a variety of use cases including:
Tracking racked IT equipment in datacenters
Real time tracking of lab equipment
Tracking equipment in the outdoors including cranes at construction sites
Monitoring personnel movement for mustering and time and attendance purposes
Active tags come with additional options including motion, humidity and tamper-detection sensors.
RFID Reader
Choosing the right RFID technology is one of the deciding factors in a successful deployment. As the RFID industry continues to grow, a wide variety of readers are available to address a range of tracking needs. AssetPulse, with its in depth domain expertise, can recommend the optimal hardware for your asset tracking requirements. Read More
Experience the Effectiveness of our RFID Tracking Solutions in Real-time