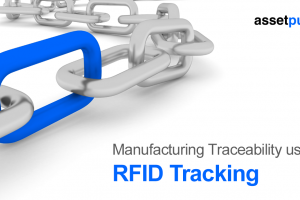 Traceability in manufacturing industry includes keeping track of supplier lots, batch number and/or serial numbers that are used in the production of a specific finished good. This allows a manufacturer to trace back any part of the finished good through all internal manufacturing processes to the original raw material. Capturing this genealogy data is a requirement for regulated industries like biomedical devices, pharma, automotive and food industries. Collection and recording of this data is often a manual process, which can be time consuming, inaccurate and inefficient.
AssetPulse RFID Tracking Solution to improve Traceability in Manufacturing
Automating the capture of traceability data using RFID tracking is a step in the right direction. AssetPulse' RFID-based traceability solutions can be used to track parts, process, equipment and people. Tracking all these four categories are essential to get a holistic view of traceability in manufacturing.
The AssetGather RFID traceability solution lets you know which supplier lots or serial numbers were used in which finished good. It allows you to monitor the entire manufacturing process right from the picking of raw material to its delivery to the assembly line and the consumption of the components on the line. This information can provide insight into where a defective part was introduced in the product manufacturing lifecycle.
At the same time, AssetGather's RFID solutions can track and record the technicians or manual labor who worked on every stage of the manufacturing process for a specific finished good. This information can be valuable when reviewing for operator-related errors in the event of a quality issue. Manufacturing equipment and tools are RFID tagged so that they can also be tracked and recorded. It helps you to determine which equipment or tools were used on which finished good and when.
AssetPulse's RFID Traceability solutions can play a big role in a company's Industry 4.0 initiative. It provides insight into productivity, regulatory compliance and quality control. Automated data collection using RFID can play a big role in a company's Manufacturing Digital Transformation program. Along with RFID-based traceability solution, AssetGather's tight integration with Enterprise applications such as SAP, Maximo, JD Edwards etc., a slew of benefits can be realized, including gaining insight into root-cause analysis by moving upstream step-by-step to hone in on the root cause, continuous improvement, wastage monitoring,  and allowing for accurate status updates on customer orders.
With AssetPulse RFID Tracking solutions, you can automate tracking and traceability in manufacturing, automatically monitor and track products and parts throughout the manufacturing process, capture the relevant data to identify bottlenecks, analyze the root cause, rectify and improve the manufacturing process, and improve quality and overall efficiency.
Looking to Improve Traceability in Manufacturing?
RFID Solutions Customized for your Industry
Contact Us
Benefits of RFID Inventory Tracking in Supply Chain Management