How AssetPulse assists in Lab Equipment Calibration Management
Timely calibration of critical equipment is essential in the pharmaceutical industry
Why is calibration important?
Given the enormous impact of the pharmaceutical sector on the lives of billions of people, the industry takes every measure to ensure it conducts its research with accurately calibrated equipment.  Labs have to adhere to numerous regulatory compliances to ensure their product integrity, which include proper instrument calibration in a timely manner.
Calibration certificate is issued against equipment after validation. This certificate contains key information such as reference standard, last calibration date, next calibration due, normal operating range of instrument etc. Calibration certificate is a mandatory document that is referred prior to producing pharmaceutical products. Should a problem arise in the manufactured product, information contained in the calibration certificate is key to determining when, where, and how an error was introduced.
As with any manual process, keeping track of calibration certificates and calibration-due-dates is subject to human error no matter how organized or careful lab personnel may be.
AssetPulse's RFID-Enabled Asset Tracking solutions address this problem.
AssetPulse software facilitates the entire calibration process – from determining which assets need calibration to physically locating them and to processing the post-calibration paperwork .
AssetPulse software proactively alerts users of upcoming calibration-due-dates – both via email as well as via software alerts. Users are also able to query the system for a list of assets that need calibration in the short term. They can download asset lists to mobile RFID readers, which enable them to quickly and efficiently locate equipment on the lab floor. The AssetPulse Geiger Proximity Search Feature on the RFID reader makes this search possible.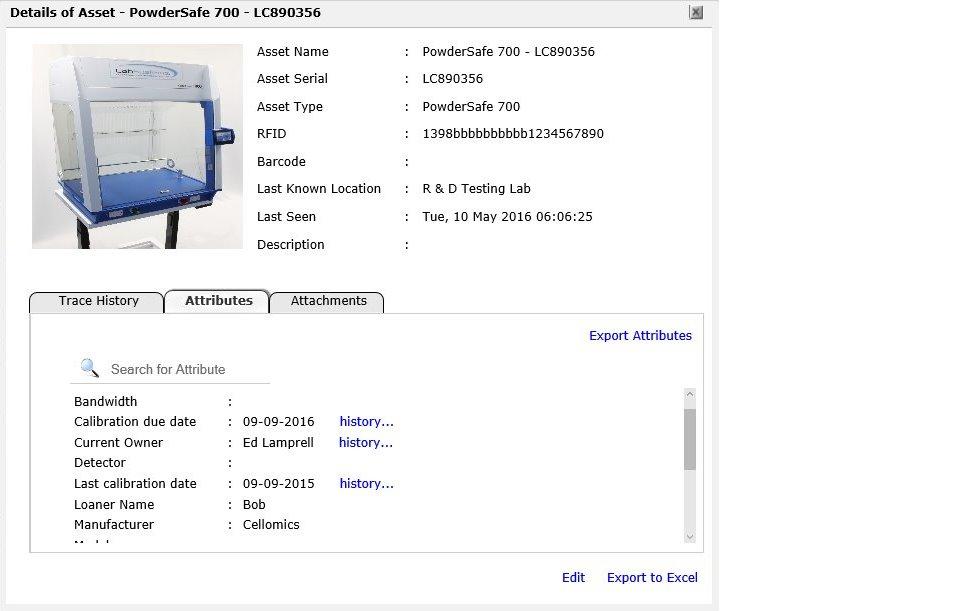 Once equipment calibration is complete, users can easily update the system with calibration dates and calibration certificates for the equipment. The AssetPulse System helps in calibration certificate traceability as it digitally stores calibration certificates, which means they are readily available in case of an audit. This alleviates the time-consuming manual process of searching through numerous paper folders in hopes of locating calibration certificates.
Using the AssetPulse RFID-Enabled Asset Tracking software, our biotech and biomed customers have streamlined their calibration processes, whether they perform calibration in-house or they contract it out to third parties.