How AssetPulse RFID Equipment Tracking eases Asset Maintenance and Service
RFID equipment tracking helps equipment owners to maximize the life of their assets by facilitating regular maintenance and repairs of their equipment. RFID equipment tracking can be leveraged across numerous industries for this purpose, including manufacturing, construction, oil and gas, lab equipment and Utilities. Building maintenance professionals who are responsible for HVAC equipment can also greatly benefit from the use of RFID. A CMMS Study finds that 34% of users do not track asset data.
According to the study, two thirds of them track asset data manually. This can lead to inaccuracies and incomplete information about their assets. Having suboptimal maintenance procedures can greatly impact the longevity and safety of their equipment.
It is important for owners to have a complete picture of their assets, including insight into utilization, allocation, operations, maintenance, safety and regulatory testing of their assets. The reality however is that at any given instance, they may have their assets spread across multiple locations making it difficult to keep asset information reconciled and to ensure that maintenance and safety procedures are executed and recorded in a timely and accurate manner.
AssetPulse RFID Equipment Tracking Solutions
AssetPulse's RFID Equipment Tracking Solutions can help professionals to efficiently track and assess asset health. How?
All assets are tagged with RFID tags. With the help of AssetGather software, maintenance professionals can track their assets as they move through various locations leveraging the RFID reader infrastructure. This can either be a mobile or fixed infrastructure or a combination of both.
If an asset is serviced, the maintenance team can update maintenance data in the AssetGather system. Or, if an asset has returned from a leased usage, usage information about the asset can be updated in AssetGather.
Critical data can also be stored in the RFID tag itself, so it is available to maintenance professionals locally, even if they have no network access to the centralized system.
Not only does the system allow for  updating maintenance data, AssetGather also provides for proactive alerting of upcoming scheduled maintenance, regulatory testing and other critical attributes for each asset.  Email alerts are a convenient method to warn users of these imminent tasks. Overdue or missed maintenance can also result in escalated notifications.
Maintenance and regulatory documents can be stored digitally within the system. This eliminates the need to search through myriad documents in the case of an audit. Thus, AssetGather facilitates easy access to all asset related data including its movement, operational details, maintenance and regulatory testing information.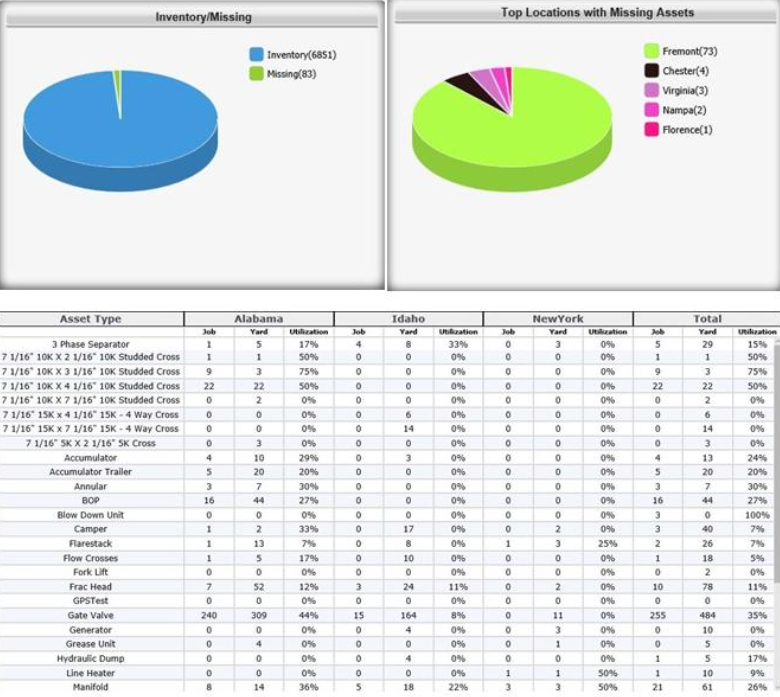 Looking for RFID Equipment Tracking Software?
RFID Solutions Customized for your Industry
Contact Us